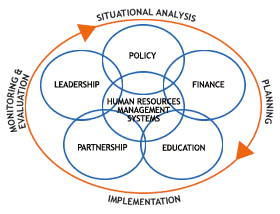 Partnership
Areas of Intervention
Mechanisms and processes for multi-stakeholder cooperation (inter-ministerial committees, health worker advisory groups, observatories, donor coordination groups).
Public-private sector agreements
Community involvement in care, treatment and governance of health services.
Indicators
Mechanisms in place for coordination (e.g., other key ministries, donors, service providers including private sector providers, professional associations, etc.)
Agreements in place between MOH and other health providers
Mechanisms in place to involve communities in health services.
Tools and Guidelines
Resources