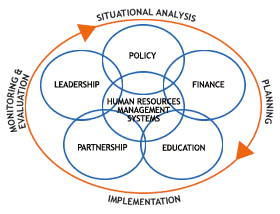 Finance
Areas of Intervention
Setting levels of salaries and allowances
Budgeting and projections for HRH intervention resource requirements including salaries, allowances, education, incentive packages, etc.
Increasing fiscal space and mobilizing financial resources (e.g., government, Global Fund, PEPFAR, donors)
Data on HRH expenditures (e.g., National Health Accounts, etc.)
Indicators
Salaries and allowances competitive in local labor market
Salaries and allowances equitable between cadres of health workers
National health accounts routinely collect data on HRH expenditure.
Tools and Guidelines
Designing Evidence-Based Incentives to Attract and Retain Health Workers. CapacityPlus, 2012
Financial Management Assessment Tool (FINMAT). MSH, 2010
Framework for Purchasing Health Care Labor. World Bank, 2004.
Guidelines: Incentives for Health Professionals. Global Health Workforce Alliance; International Council of Nurses; International Hospital Federation; International Pharmaceutical Federation; World Confederation for Physical Therapy; World Dental Federation; World Medical Association, 2008.
How to Pay: Understanding and Using Incentives. World Bank, 2004.
Innovative Financing Options for the Preservice Education of Health Professionals. CapacityPlus, 2013
Interactive Costing Tool Guide. Partnership for Maternal, Newborn, and Child Health–PMNCH and WHO.
Managing Your Organization's Finances. Management Sciences for Health (MSH), 2006.
Paying for Performance in Health: Guide to Developing the Blueprint. USAID Health Systems 20/20 Project, 2008.
Resource Requirements Tool (RRT). Global Health Workforce Alliance, 2009.
Resources
Contemporary Specificities of Labour in the Health Care Sector: Introductory Notes for Discussion. Human Resources for Health, 2005.
Costing the Scaling –Up of Human Resources For Health: Lessons from Mozambique and Guinea Bissau. HRH Journal. Volume 8. Issue 14. 2010
Emerging Opportunities for Recruiting and Retaining a Rural Health Workfoce through Decentralized Health Financing Systems. Bulletin of WHO. Volume 88; Issue 5. 2010
Financing and Economic Aspects of Health Workforce Scale-up and Improvement: Framework Paper Global Health Workforce Alliance and World Health Organization, 2009.
Human Resources and Financing for the Health Sector in Malawi. Authors Picazo and Martineau. World Bank, MOH Malawi. 2009
Performance-Based Reimbursement Scheme: A Final Report of a Pilot Study. RTI International, NGO Service Delivery Program, 2006.
Planning and Costing Human Resources for Health. Glassman, Becker, Makinen, de feranti. The Lancet. Volume 371. Issue 9613. 2008.
What Countries Can Do Now: Twenty-Nine Actions to Scale-Up and Improve the Health Workforce Global Health Workforce Alliance and World Health Organization, 2009.